I built this character profiles feature in Macromedia Director
and you will need Macromedia's Shockwave to enjoy it.
If you don't already have Shockwave, it is easy to download and install from here:

Once you have Shockwave and have reviewed the notes below,
jump right over to Meet the FEW and FAR Between: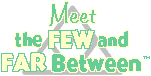 The presentation is 531 KB and will take a few minutes to download the first time.
A thermometer will let you monitor the progress of the download;
something additional to look at kicks in at about 20%.


Once loading is complete, waves and clicks of your mouse
over and on the various elements on the screen will carry you around
and invoke informative and entertaining responses.
Don't feel constrained to "mousing" only Kollumañeros!


Type "Q" when you're ready to quit.


Have a great time and let me know how it goes!


Return to:



and this week's strips.

There's something new all the time. Come back tomorrow!
If you enjoy FEW and FAR Between, I'd love to hear from you!


FEW and FAR Between and all prominent characters are TM and ©2000 Jonathan Thayer.
All contents of these pages ©2000, ©1999, ©1998, ©1997, ©1996 and ©1995 Jonathan Thayer.
All rights reserved.